Northland Chorus


Will Present:



Our 57th Annual Show
Saturday Apr. 06, 2024
Details to be announced...

---
Our 56th Annual Show was held at
Sault Community Theatre Centre (SCTC)

(located inside White Pines High School)
7:30 pm, Saturday April 15th, 2023
Special Guest Quartet was
from Toronto, ON:

Formerly singing under the name: "YONGE GUNS"
Same Quartet - New Name!
https://maplereservequartet.com/
www.facebook.com/maplereserveqt
www.instagram.com/maplereserveqt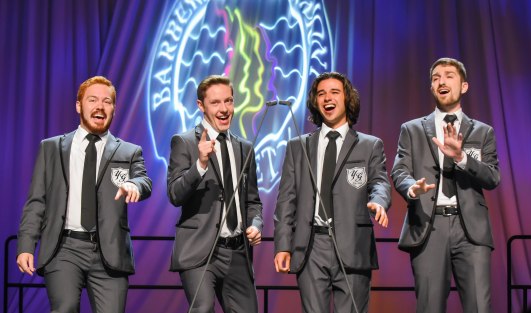 All seats $35.00 - Canadian funds,
General Admission.
Tickets at $35 available at:
Hess Jewellers in Churchill Plaza
Soo Theatre/STARS - 534 Ashmun, Sault Mich

Any Chorus Member


Tickets will also be available at:

Community Theatre Box Office in Station Mall
(add $4.00 Box Office Service Charge)

Online at the SCTC Box Office TixHub Internet Reservation site
(add $4.00 Box Office Charge + $2.50 online convenience fee)

For more information, call Bob at 705-253-9574
---
Our 2019 Show "You Don't Know Me...Maybe Heaven Can Help" was the subject of a video profile done by Shaw TV. This show was a milestone for the chorus as we finally achieved the $100,000 mark in lifetime donations to the Speech Pathology Unit at Sault Area Hospital in keeping with our motto: "We Sing That They Shall Speak".
Now onward to the next $100,000!!

---






Our 2017 show: "The Last Voyageur" was also the subject of a wonderful video by Shaw TV.